Khortytsya Island - sanctuary of ancient gods and ancient burials of ancestors (photo).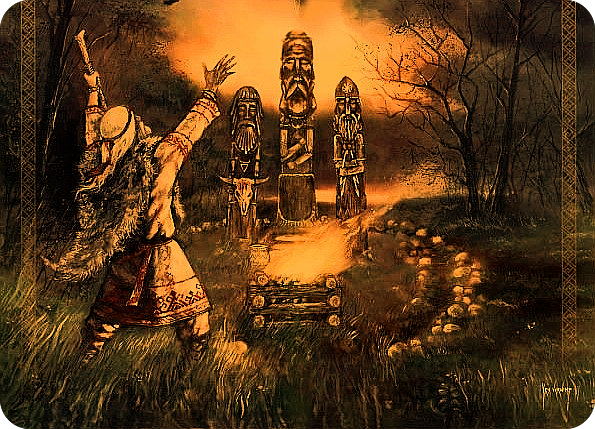 "For Daszbo has created an egg for us, which is the light-star that shines on us.  And in that abyss, Dazhbo our land was hanged, so that this was held back.  So the souls of ancestors are the essence.  And they shine with us stars from Ira ... These were our fathers, and we should not be different.  The Greeks wanted us to be baptized, so that we forgot our Gods and so turned to their faith and began to serve them.  Let's watch how shepherds protect their flock and do not allow wolves to prey on lambs, which are children of the Surya-Sun. "  (From Veles book)
Our ancestors considered themselves to be descendants of the Sun, which created them and which gives life to everything on earth.  The cult of worship of the sun is known in our lands thousands of years ago.  The oldest temples, sanctuaries and observatories were found all over Ukraine.  It is not enough to say that they are in Khortytsia.  The island is literally sown with ancient religious buildings.
Khortytsya is one of the Seven Wonders of Ukraine.
This piece of land in the middle of the Dnieper waters has long been chosen by our ancestors.  They prayed here and sacrificed to the gods for millennia.  From the most ancient times the island of Khortytsia was considered sacred.  Strong energy of this territory has always been tangible for people.  It was no different than the place of the Force considered by those who built here numerous sanctuaries, mound complexes, temples.  Khortytsya is an ancient spiritual center, which united different epochs, peoples and cultures.
The age of stone sanctuaries found on this island is 4 thousand years old.  The same Khortytsia is much older - she is more than 30 thousand years old.  Three natural zones: oak forests, floodplain meadows, grassland-fawn steppes, encountering here, form a unique picture of the Ukrainian landscape.  The ancient steppe with the relict species of plants that has been growing throughout Ukraine has long been preserved here.  30-meter cliffs in the northern part of the island of Khortytsia - probably one of the most ancient inhabitants of the earth.  The age of these granites and gneisses is more than 2 million years old.  Caves, grottoes, rocks and boulders - the ancient stone kingdom that rises above the Dnieper - as a symbol of eternity, the infinity of the mystery of life on earth.