Wheel of Veles.
Veles is one of the most revered gods among the Gentile Slavs. His main merit is that he brought the world created by other gods into motion. Therefore the symbol of Veles is the wheel.
Swastika - the oldest symbol, which initially had only positive interpretations: movement, life, light, well-being, the Sun. These values ​​are in many respects similar to the symbol of the wheel as the personification of continuous motion.
The amulet of Veles (Velez amulet) can be a wheel with ornaments resembling a solar sign (Figure a), or a round mascot with a three-part swastika (Figure b). Both versions of the amulet symbolize the movement, the continuity of life and help in any matters and undertakings. You can apply to him with requests for the fertility of the land, for material prosperity.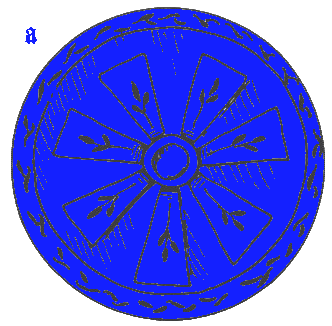 Drawing. Amulets of Veles:
a) Wheel of Veles; b) amulet with swastika
The amulet of Veles is worn in the form of a pendant, suspension or key fob.
Olga Romanova.